Modified Mechanically Opened Pistachios (MMO) 
A big proportion of pistachios harvested every year are closed nut kernels. In a normal year on average this would constitute 20 – 25 % of total harvest in Iran. These nuts would be used for kernel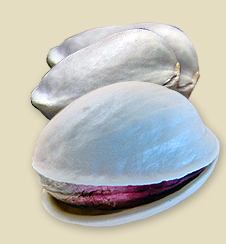 production or would undergo a process to make them consumable as a snack.  At the same time in majority of these nuts the hard shell would act as a barrier and would protect the kernel.
Nonetheless, customers of mechanically opened pistachios are usually concerned with some negative aspects of this product.  Namely, lower meat content, existence of loose shells, problems in roasting, irregular cracks on shell, change in taste, etc.
Arian Milan has worked for years trying to improve the quality of Iranian mechanically opened products. The MMO product line is an improved type of MO doing away with the negative aspect of regular MOs, in particular Jumbo pistachios.