Diminished Aflatoxin Risk Pistachios (DARP) 
DARPs are different from normal pistachios traded internationally in two respects:
Drastically improved consistency of Aflatoxin test results.  In particular in commercial lots undergoing repeated sampling at different stages of clearance.

Improved quality in terms of physical characteristic specified below:





Uniformity of commercial lot in size

The miniscule presence of foreign material

The good appearance of pistachios being devoid of colored, deformed and unripe nuts
Although the major focus of this product line is on Round (Finduki) 28/30/32 pistachios, we also handled Jumbos 22/24/26, MMO Jumbos 22/24/26 and NPKs (Natural Pistachio Kernels).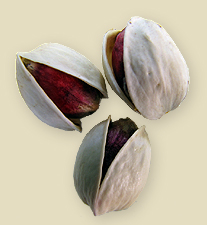 Arian Milan can accept responsibility of passing defined sampling and testing control regimes in Iran or abroad.  This control regime can be based on inspections from Health Authorities in entry points or final buyer's premises by an independent inspection team.  Eventually this control regime can be based on any independent inspection team at origin.
For customers requiring a more stringent testing result than those specified by International Codex Standards (two 10kg sampling, MRL of total 10 ppb) or the EU's (3 10kg sampling, MRL B1 2ppb – Total 4ppb), Arian Milan could provide top quality products under even stricter control regimes.  However, the stricter the control, the costlier the product.